Give young people a challenge and you might be surprised by the variety and ingenuity of the solutions they come up with.
This summer, 700 children in the United States were given the task of solving the ecological challenge of plastic pollution in the world's oceans. They only had three hours to come up with their answer, but the ideas and skills demonstrated impressed ORT's instructors.
The ORT Start-Up Challenge program enabled hundreds of children at six Jewish summer camps across the US to explore Israel's 'Start-Up Nation' through STEAM activities.
ORT professional instructors from World ORT Kadima Mada's YOUniversity program ran two three-hour 'mini hackathon' sessions in each camp, encouraging inquisitive minds in an engaging, group-based format.
"ORT incorporated Israeli technological and start-up know-how, Jewish values and STEAM education," said Moshe Leiba, Chief Informal Education Officer at World ORT Kadima Mada. "We brought these activities to Jewish summer camps throughout the US to show the importance of connecting the community to current world challenges and to engage the future generation in STEAM subjects and Tikkun Olam."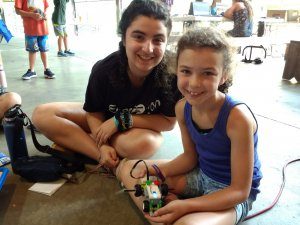 The program encouraged collaborative and creative solutions using a contemporary challenge. Each camper was challenged to become a specialist in one of four fields: robotics, virtual reality, science, or photography and video editing.
Each group started by talking about creative thinking and problem solving.
This project-based learning experience provided a fantastic opportunity for the campers to try something new and to challenge themselves to gain the new skills needed to complete their task.
As with any successful start-up, each team required knowledge and skills from across all the expert groups to complete the challenge. And so, after the initial training in their chosen field, the campers formed start-up teams of the different skillsets.
The robotics specialists were given a LEGO Robotics Kit and each chose a robot to design from a long list which they believed would confront their challenge.
The VR specialists were introduced to a virtual reality program called "Codespaces". They each coded an animation to illustrate the pollution problem and then had an opportunity to walk through the world they designed using VR goggles.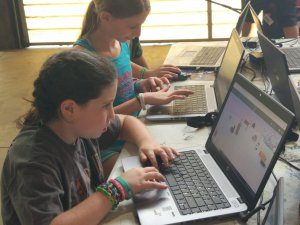 "Virtual reality can show people what they're thinking… they can draw diagrams and pictures… so the virtual reality can help give people a visual representation of a solution which could help people understand it." – Gaby from Camp Nah-Jee-Wah, New Jersey.
The science specialists prepared a variety of experiments, such as designing a liquid color-tower, creating a chemical garden in a bottle and forming a foam fountain, all to learn about a variety of scientific principles that relate to the ecological challenge at hand.
The photography and video editing specialists learned basic techniques for working with an SLR camera and a video camera. They then walked around camp and documented the work done by the other expert groups and prepared short productions to illustrate the work of their start-up.
The informal environment provided by a summer camp setting is an ideal forum for this program – it provides a chance to introduce young minds to new technologies and STEAM subjects in an engaging, group-based manner, enabling children to learn while having fun.
"They didn't even realize how much they were learning," explained Esther Staum Katz, Camp Director at Camp Shoshanim in Pennsylvania. "The solutions they came up with demonstrated creative thinking, problem solving, collaboration skills."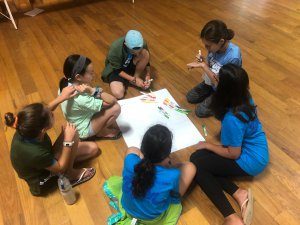 Leading teams, such as "Shoresh Yarok" from Camp Yavneh in New Hampshire, decided on a multi-pronged campaign that would cover all areas of expertise. Their solution included a prototype of a robot to clear plastic in the ocean.
The group had some ambitious plans to research the development of a chemical, distributed by the robot, which could dissolve plastic. Their campaign included a virtual reality simulation to present a world overflowing with plastic to the UN, followed by a simulation illustrating their solution to the problem.
Finally, they would include a marketing campaign to educate people on the problem at hand, call for action and find sponsors to fund their great venture.
Michal Katz, Program Manager at Kadima Mada, said: "The campers were given a unique opportunity to take part in a meaningful learning experience through fun, hands-on activities.
"It was very exciting to see them think outside the box, collaborate with their teammates and enjoy themselves while coming up with impressive solutions to a very real and troubling ecological challenge."
The ORT Start-Up Challenge was a great success. It created a significant impact with the campers and the camp directors and staff were grateful for the opportunity to bring such a unique experience to their camp with the help of ORT's expertise.
If you are considering a project like this in your own school, think about how you can utilise all resources available to you to support learning. You would be surprised with how far students can go with project-based learning when given the right framework and tools to work with.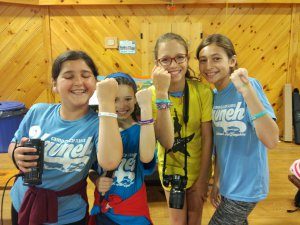 The US camps project developed out of Kadima Mada's YOUniversity Centers of Excellence program, which provides extra-curricular STEAM learning to children living on the socio-economic periphery of Israel.
YOUniversity programs develop student interest in science and technology through enjoyable, practical courses, encouraging students with otherwise limited opportunities to engage with advanced subjects and improve their prospects.